The Rum Rebellion IV - Aftermarth of the Rebellion
Back to the Bibliotheca
Back to the Atrium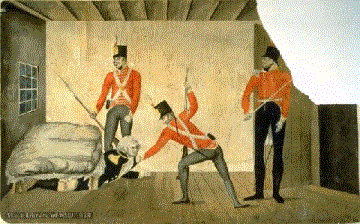 The Arrest of Bligh.
From: Picman
Aftermarth

After being arrested, Bligh escaped and boarded a ship, ordering it to sail to Van Diemanís Land, where he still had jurisdiction. From there he went back to England, and put his case to the King.

Johnston and others were recalled to England and put on trial. Johnston was forced to leave the army, and Bligh was exonnerated. He did not return as Governor, however, and Lachlan Macquarie arrived as the new governor of NSW on January 1, 1810.



Sources
I'll get back to you on this one!
Back to the Bibliotheca
Back to the Villa